The 2022 Sectional Track and Field Meet at West Platte is May 14th, this Saturday. All tickets to attend must be purchased on the MSHSAA website prior to the event and cash entry will not be allowed. Use the below link, then click the "tickets" logo on the right side. Select Track and Field followed by Class 2. This is a Class 1 and Class 2 dual meet. Purchase your $7.00 tickets under Class 2 for West Platte.
https://www.mshsaa.org/Schools/Navigation.aspx?s=260&year=2021
MAP/EOC testing starts this Wednesday, May 11th. Please encourage your child to do their best and rock this test!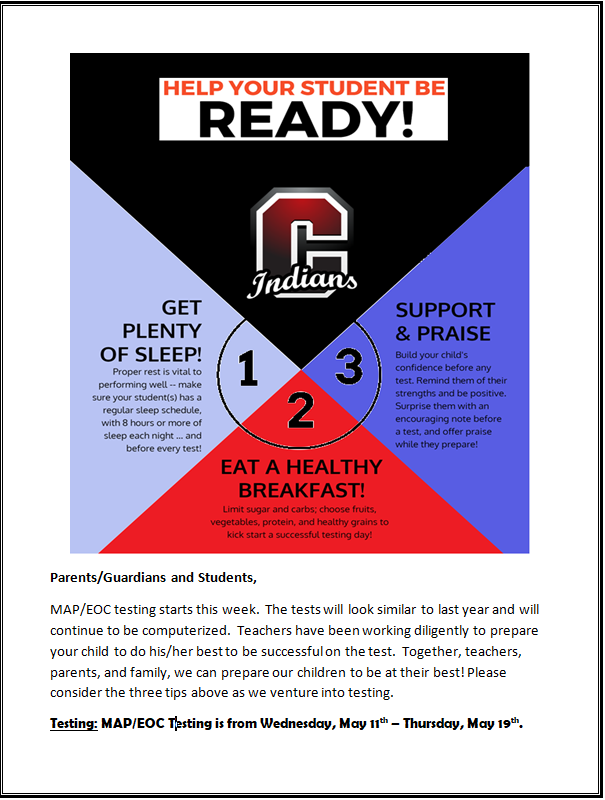 We are proud to announce the 2022-2023 Lady Indian Basketball Camp hosted by Neosho Community College. Deadline for entry fee is May 26th. Please see flyer for information.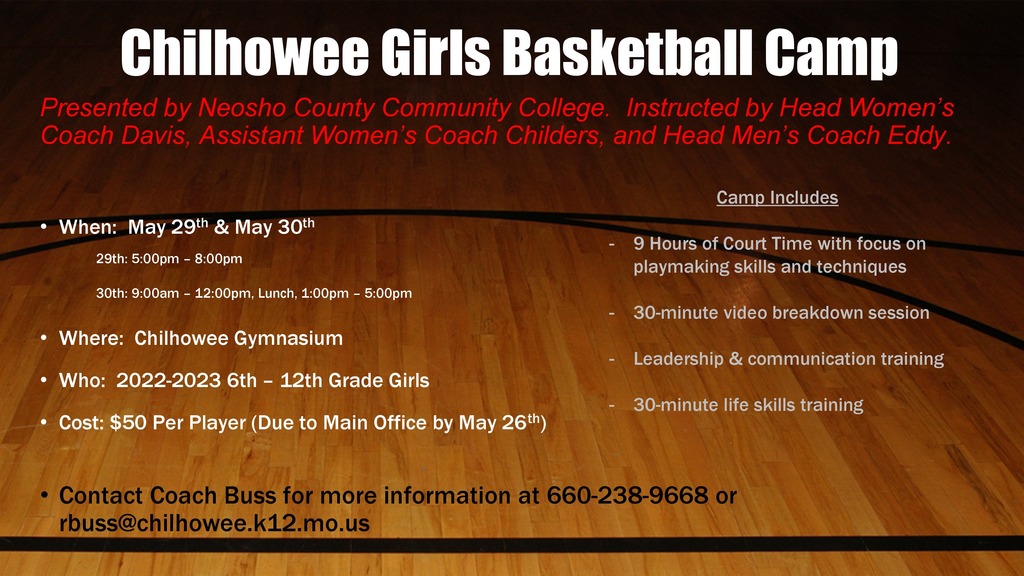 Chilhowee students and faculty love their principals and superintendent! Mr. Murphy, Mrs. Patrick, and Mrs. Rehn received their favorite drink and candy with some pretty, school-colored flowers. They also received a card signed by all staff with a gift card. Thank you to our principals and superintendent for all they do for our school, students, staff, and community!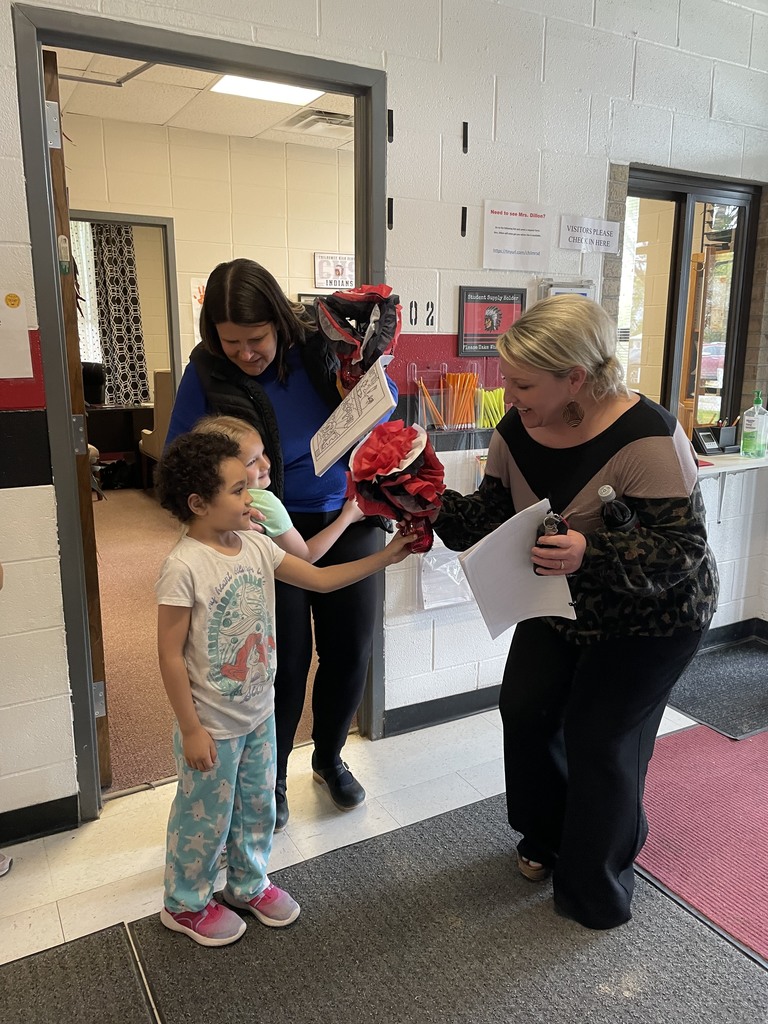 Tomorrow is the day for Kindergarten-6th Grade Field Trip to Science City! Please make sure your child wears tennis shoes and long pants for tomorrow's exciting trip! Please make sure your child is at school by 7:50 am. If you have any questions please Dojo or email your child's classroom teacher. Have a fabulous night everyone!

Please come help us honor these two amazing women who have given so many years to our district. Please come see them and let them know how much we have enjoyed them and appreciated them. All are welcome! Please help spread the word.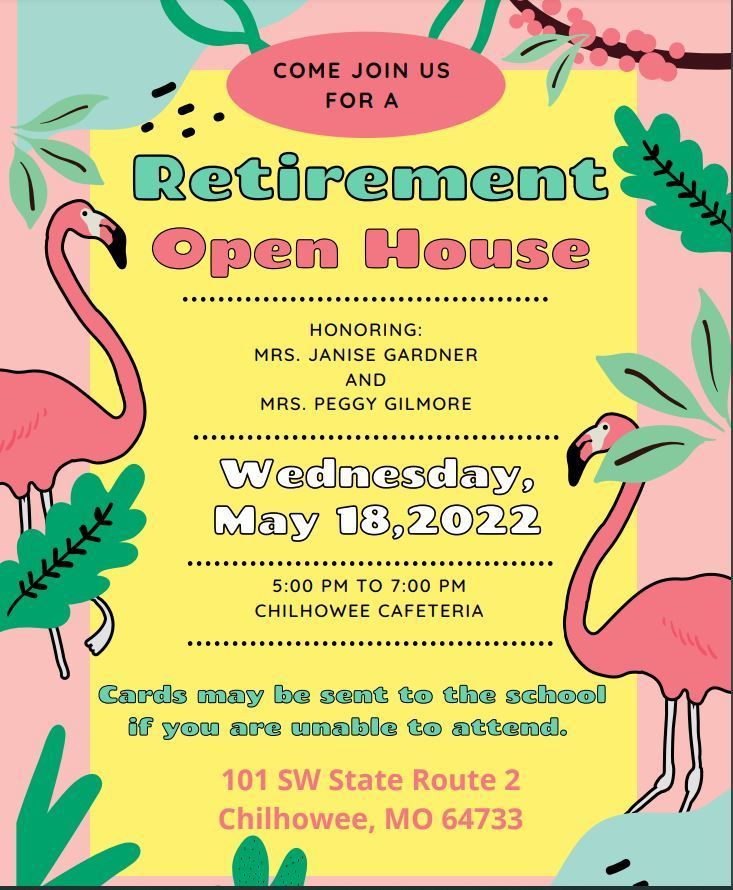 We would love for each of you to join us for our FFA banquet where we will induct our new officers and recognize member accomplishments. The Johnson County Cattlemen's Association will be cooking burgers. Please let Mrs. Thornley know by Wednesday if you plan to attend. Thank you, and we hope to see you there!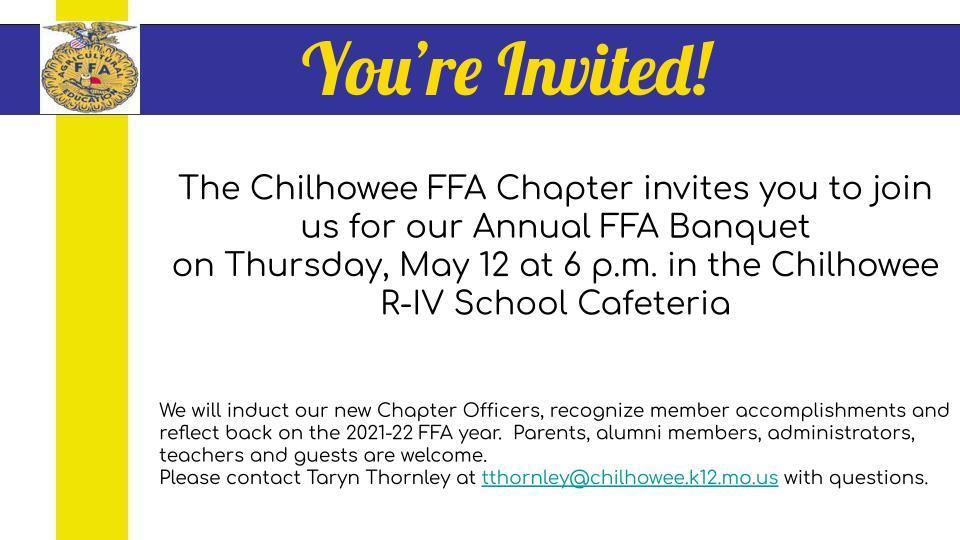 Please join Chilhowee PTO tonight at 5:00 for their May meeting. We will be putting the final touches on the school carnival and would love to see you there. If you cannot make it but are willling to volunteer please reach out to; Misty Miller, Whitney Brown, Annie Dillon, or Jessica Lankford.

The Annual PTO School Carnival is coming! Please see the attached images for how you can help make it a success! Parents/Community Members contact a PTO officer if you are willing to help duing the carnival; Misty Miller, Whitney Brown, Annie Dillon, or Jessica Lankford.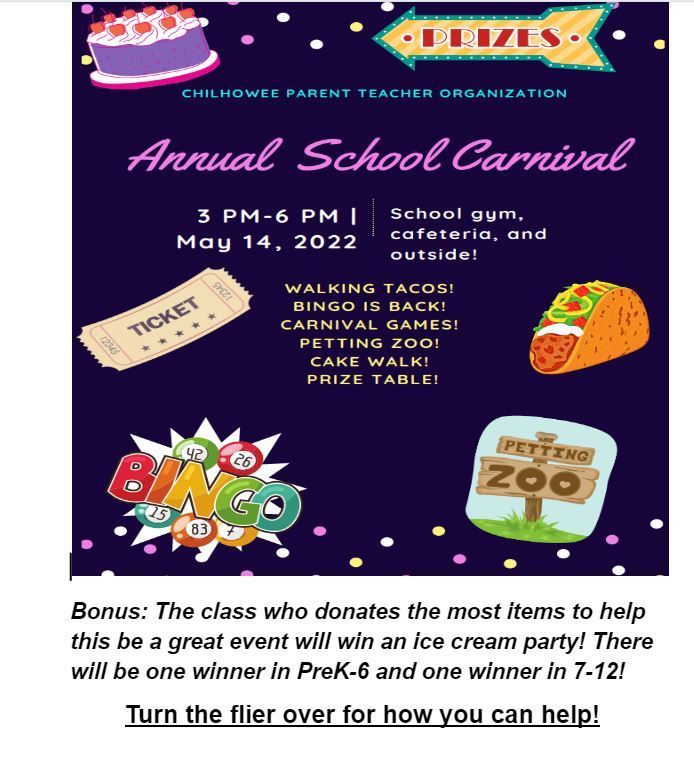 Summer School Information!

Tonight's track meet at Sweet Springs is canceled due to weather. No reschedule date has been set.

Congratulations to Chilhowee's Senior Laney Owsley! Today she signed a Letter of Intent to play basketball for the Lady Eagles at Central Methodist University. Laney's unmatched dedication, hard work, and commitment both on the court and academically paved the way for this opportunity. Chilhowee Pride!
Graduation News!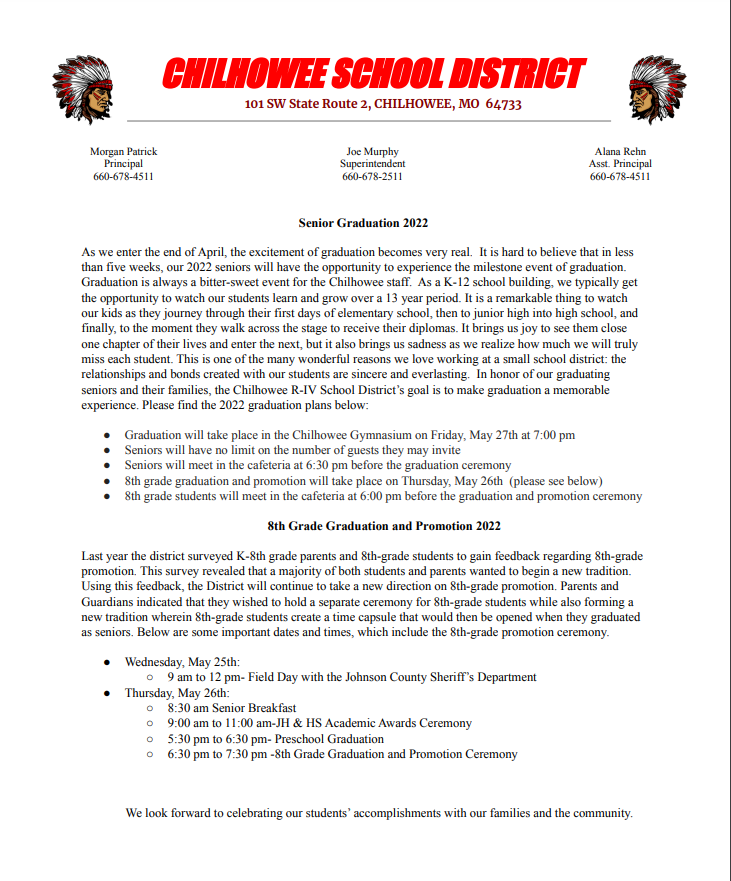 Save the Date! Our annual PTO carnival is coming soon. Mark your calendars as you will not want to miss this fun event.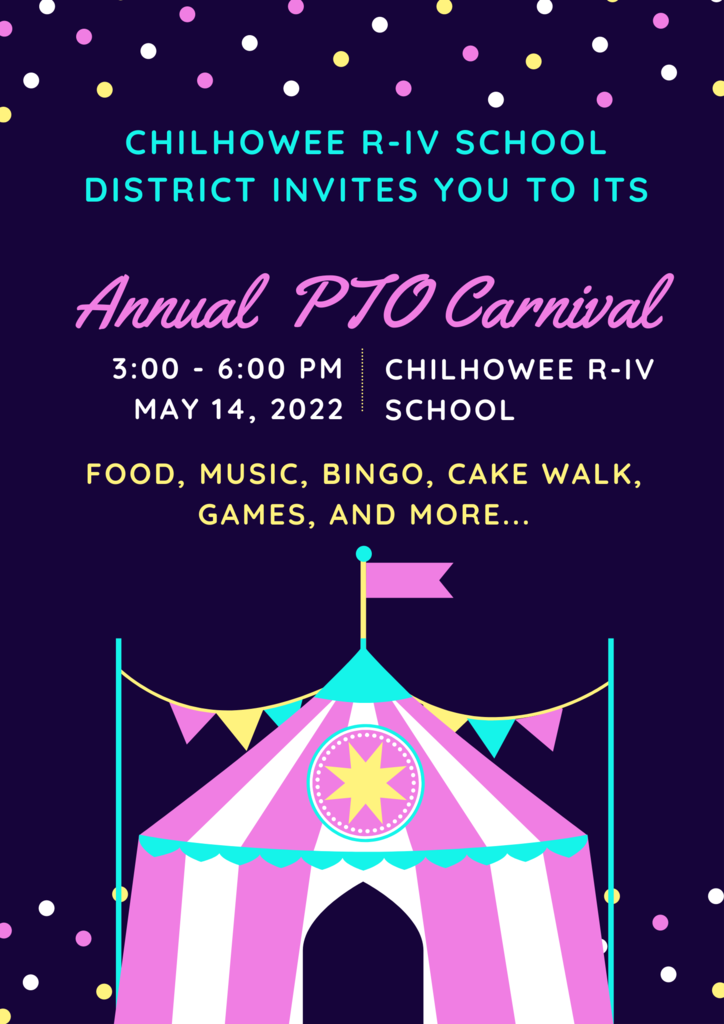 MAP and EOC testing are right around the corner. We wanted to get this information out to parents, so they know which days their student is testing. Students will be testing in the morning and afternoon on these days. Please ensure your child gets plenty of sleep, arrives at school on time, eats breakfast, and is ready to rock this test!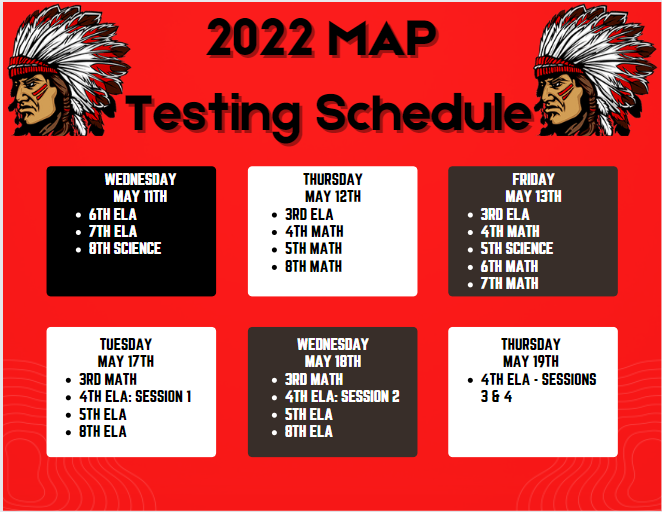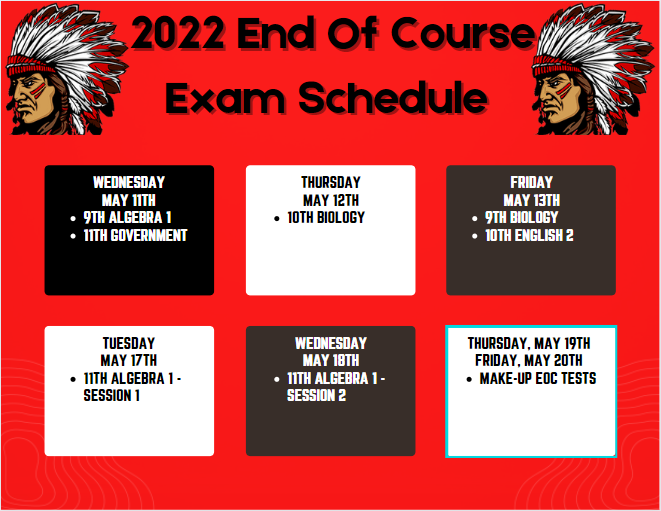 Parent Teacher Organization Meeting in the Library at 5:00 p.m. this evening, Tuesday the 19th. All are welcome to join us as we plan our end of year events. Hope to see you there!
Due to a scheduling conflict, the Kindergarten through 6th-grade field trip to Science City will take place on Thursday, May 5th, instead of Friday, April 29th. Union Station can accommodate us and give us a better experience on the 5th. Please let your child's teacher know if you still plan to attend.
Congratulations to our amazing April artists of the month!

4/18, Varsity Track travels to Higginsville today to participate in the Husker Invitational. Field events start at 4:00PM followed by Track events. Transportation departs at 2:20PM.

4/12, Jr. High Track travels to Pleasant Hill today. Field events start at 4:00PM followed by Track events. Transportation departs at 2:45PM.