The Lady Indians Basketball Team will begin open gyms on Monday June 4th from 4-6pm. Summer Open Gyms will occur on Monday, Wednesday, & Thursday from 4-6pm.
Informational meeting is at 6:00pm tonight in the Library. Information on the new addition and realignment of the elem will be discussed
School to Work: Any senior that is planning on participating in the school to work program needs to have their paperwork to Mrs. Dillon by May 24th.
Summer School will be held June 4th-June 29th, 2018. A free breakfast and lunch will be served daily to all children 18 and under. Breakfast will be from 7:30-8:00 and Lunch will be from 11:30-12:00.
There is a public forum on Tuesday Night May 22, 2018 @ 6:00pm to discuss the new building and the renovation/realignment at the elementary.
Regular Board of Education meeting is scheduled for Wednesday night 7:00 pm in the Library. Items on the agenda include Old Business: discussion of the building improvement project. New Business: 1. Bid approval for Building Project 2. Surplus Property (modular unit), 3. Freezer Bids, 4. Worksite Learning, 5. JH volleyball, and 6. MSBA conference. Executive session will be held after the regular meeting.
The Annual PTO School Carnival is TONIGHT from 5 to 8pm!
Chilhowee School will be holding summer school June 4th-29th and there is still time to sign up! Pick up a sign up sheet from the school office or request your child bring one home. Due May 11th!
A huge thank you to the Johnson County Fire Department Station 3, the Johnson County Ambulance District, the Johnson County Sheriff's Department, the Missouri Highway Patrol, Eagle 5 Life Flight, Warrensburg's Daily Star Journal, and the Chilhowee Student Leadership Team for their help with Arrive Alive/Safe and Sober today.
With the MAP and EOC testing going on in the building. All Visitors who come to the school will need to check-in and stay in the school office. Thanks!
Tomorrow, April 20th, there will be a mock accident in the school parking lot as part of our Arrive Alive/Safe and Sober presentation for high school students. Fire trucks, an ambulance, and life flight will be part of this presentation.
CHS JH & HS Academic Awards; Tuesday, May 8th @ 6:30pm. CHS Basketball and Cheer Awards Banquet; Thursday, May 10th @ 6:30pm
Students in 5th, 7th, and 8th grades will be taking the MAP tomorrow, April 17th. Students who are MAP or EOC testing will receive a free breakfast on the days that they test.
Tomorrow morning we will be beginning testing for grades 3rd-8th and high school EOC assessments. Testing will occur Tuesday-Friday from now until May 4th. Please make sure your child is present at school during testing, has a good night's sleep, and eats breakfast. Please call Mrs. Dillon if you have any questions.
The PTO carnival has been set for Saturday April 28th from 5-8pm. There will be walking tacos for food, bingo, a silent auction, and other games. Please come by the school and support the PTO.
The Regular meeting of the Board of Education is scheduled for Tuesday Night April 17th at 7:00 pm in the Library
Don't forget about the NHS Red Cross Blood Drive from 12:30-6:30 PM today, Friday April 13th. If we receive 26 viable pints of blood donated, we can offer a scholarship to one of our seniors.
Tomorrow, April 6, is the last day to shop this year's BOGO book fair. The fair will close at 3:30pm.
ACT Test for Juniors will be held on April 10th in the computer lab beginning at 8:30 a.m Parents of juniors please encourage them to get a good night's sleep, eat breakfast, and be on time.
We Are Mobile! search Apple Store and Google Play for Chilhowee R-IV
The monthly board meeting is scheduled for Wednesday night March 21st @ 7:00 pm in the library. Items on the agenda include Old business: Building update, 2018-2019 school calendar, CSIP plan. New business includes: Certified salary schedule, certified salaries, and Setting date for the Board reorganization. Closed executive session will be held based on Mo. Revised Statute 610.021 (3) and (6).
Students in 5th - 8th grades competed in Holden's annual Math Quest last night. The following students placed in the top ten in their categories. Pictured are students who received ribbons and/or medals. 5th grade: Luke Heaper - 1st in Fractions, Decimals, and Percents, 6th in Problem Solving, 4th in Probability and Statistics (note that Luke only competed in three events) 6th grade: Landon Smith & Adam Duncan - 9th in Consumer Math Garrett Schwager - 3rd in Geometry Adam Duncan - 9th in Probability and Statistics 7th grade: Asher Harness - 7th in Fractions, Decimals, and Percents, 4th in Probability Mia Askew & Renee Hornback - 9th in Consumer Math Renee Hornback - 10th in Problem Solving, 5th in Probability 8th grade: Katarina Askew & Allyson Rusche - 10th in Consumer Math
Led by the Student Leadership Team, Chilhowee students tied ribbons to the flagpole representing victims in Parkland, Florida, followed by a moment of silence for each one. Senior Zach Toole challenged students to live a "walk up life" and walk up to those in need and try to make their lives better.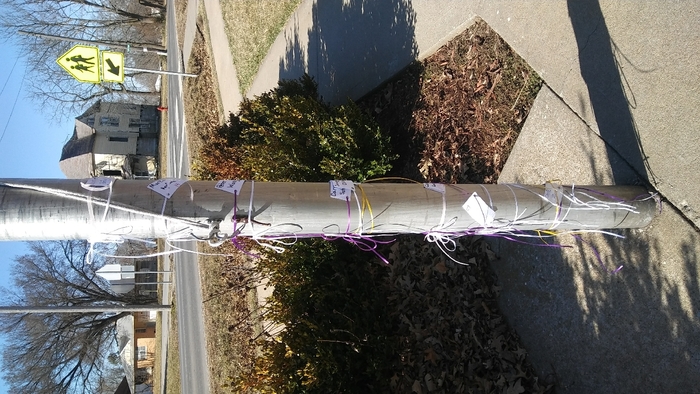 As part of the new App, the website and messaging service will be updated. To ensure we have all the correct information, please take the time to fill out this short survey:
https://www.surveymonkey.com/r/D3TL9WJ
Chilhowee School District is going Mobile! Be ready in the coming days for the access information.
Due to the icy conditions school will not be in session today Thursday 2/22. If the district basketball schedule changes updates will be sent out.
Due to the change of the district basketball game times. The board meeting will be Thursday night at 7:00 pm in the library
Due to the weather school will release at 12:00 on tuesday 2/20.
due to the light freezing rain, the FFA bowling and tutoring have been cancelled for tonight.
Thanks Jasen Jennings for helping find the leak and get the water shut off!
Thanks to the volunteers who helped clean the classrooms yesterday! Keri Smith, Misty Miller, Teresa Lowe, Jessica Lankford and thanks to Henry Tate for all the help.
Science Club for Tomorrow Afternoon is cancelled (Thursday 1/18).
Prior to the Board meeting there will be a Public meeting to review and discuss the CSIP plan of the district. The meeting starts at 6:00 pm in the Library.
Regular board meeting scheduled for January 17th @ 7:00 pm.